The Exodus 15 banners were commissioned to proclaim the vision and calling of Christian Assembly, Columbus, Ohio, which is to gather those that need the power of God and to know the fullness of worship and holiness of His presence. The facility is enormous, and so to keep the banners in scale, they are quite oversized. The central teal section of each banner is 6 feet wide. The wine colored draping on the sides adds another 3 feet of width to their 12 foot length which is increased by another 3 feet of canopy at the top of each banner's crosspiece. Despite their size, the central portion of the banners can be removed from their frames to be carried in procession.
A wine colored tallit provides a covering for the church's vision-mural , and symbolizes the abundant richness and fullness of the harvest of souls that come through their doors.
Exodus 15 reveals the two outcomes of worship:
Power
, as is represented by the scepter with seven stars and the Key of David ....and
Glory
, from the abiding presence of the Lord, as represented by the mercy seat guarded by the two cherubim, who are interpreted as flames of Holy Fire.
Thy right hand, O Lord, is majestic in power...Who is like unto Thee, O LORD, among the mighty? who is like unto Thee, glorious in holiness, fearful in praises, doing wonders?
--Exodus 15:6, 11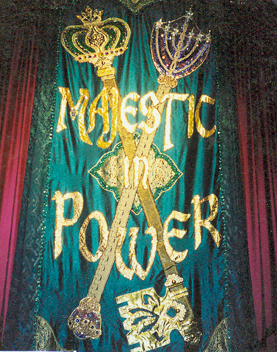 The scepter is the symbol of authority and acceptance. The key is adorned with a crown, a symbol of the King who gives us the keys to lock and unlock heavenly gates.
The Mercy Seat is the place of intimacy with God. In this representation, the wings of the cherubim are abstractly fashioned in golden fire, a symbol of purity in worship.