leads me beside still waters, He restores my soul.--Psalm 22:2-3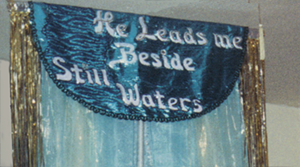 This title of Jesus Christ is found in Isaiah 9:6:
And He will be called Wonderful Counselor, Mighty God, Everlasting Father, PRINCE OF PEACE.
The banner "Prince of Peace" represents Jesus as the initiator, the reservoir, and the giver of true peace, which is His very nature.
For He Himself is our peace... (Ephesians 2:14)
. It is a banner that expresses God's intention to bring healing and restoration to His people. "The Lord gives strength to His people, the Lord blesses His people with peace" (Psalm 29:11). Jesus said, "Peace I leave with you; my peace I give you. I do not give to you as the world gives. Do not let your hearts be troubled and do not be afraid" (John 14:27).
LETTERS: White is a symbol of peace and silver of truth and redemption. The letters are jeweled to express royalty and unlimited resource.
BACKGROUND: Blue is the color of the revealed God and of grace. It is also symbolic of water. The patterned fabric suggests deep, quiet water.
like a river. (Isaiah 66:12
). The airy, iridescent panels are meant to give a sense of movement and of the peace of God washing over us. In John 5:4, the stirring of the waters signaled that a healing anointing was present at the pool of Bethesda. One who entered the waters at this time was healed of whatever disease he had. The Prince of Peace, Jesus, extends to us His invitation to enter the waters of healing, beckoning to that deep part of our spirit that was created for communion with Him. "Deep calls to deep in the roar of your waterfalls; all your waves and breakers have swept over me" (Psalm 42:7).
THE CUP: The cup speaks of fate or lot in life. This cup represents the cup of death Jesus accepted in the garden of Gethsemane: "My Father, if it is not possible for this cup to be taken away unless I drink it, may your will be done" (Matthew 26:42). He drank deeply of it, and thereby purchased peace and healing for us.
But He was pierced for our transgressions, He was crushed for our iniquities, the punishment that brought us peace was upon Him and by His wounds we are healed. (Isaiah 53:5)
. It is a white cup as a symbol of His triumph over death.