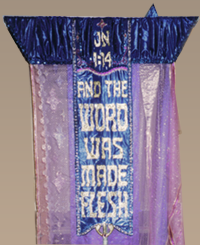 Behold, a virgin shall conceive and bear a son and they shall call his name Emmanuel, God with us.--Isaiah 7:14

And the Word became flesh and dwelled among us. We have seen His glory, the glory of the one and only Son, Who came from the Father, full of grace and truth. --John 1:14
The concept of an "emmanuel", of God in human flesh, is one of the incredible mysteries prophesied through the Old Testament scriptures and fulfilled in Messiah. That God would become man is an unimaginable idea and one that points out God's character of indescribable grace.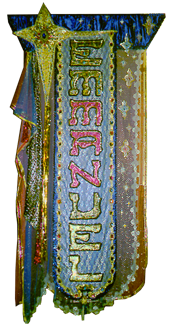 The message of this banner is contained in the actual word, "Emmanuel". The letters present an "encrypted", multilingual message. the English word "Man" in the banner's lettering is in red, red being the color of the earth and the color of man. ADAM in Hebrew means "red earth", and reminds us that it was from the red dust that Adam was formed. The letters EL are in gold. EL is one of the Hebrew names for God, and gold is symbolic of deity. Therefore, in this presentation of the single name "Emmanuel", we find a visual representation of the astounding concept that the Christ is both fully man and fully God.
Throughout the banner there are various series of fives. The number five is symbolic of grace. It appears often in the ornamentation of this banner-five red tassels, five colors of jewels, five layers of fabric, five groups of five stars. The "fives" reflect the latter portion of John 1:14 that "He was full of grace..."
The prominent, four-pointed star is the star of the prophetic, as it points to the four corners of the earth, signifying here that Jesus Messiah came not only for the Jew, but for the gentile nations as well. We recognize it as the Bethlehem star.
The deep-blue background speaks of the night sky in which the star appeared to wise men and shepherds alike-to all those who had eyes to see. Blue is also the color of the revealed God and speaks of Jesus' heavenly origin.
The layered panels again speak of the blending of the heavenly and earthly, reds for earthly and blues for the heavenly. As the colors intersect, they produce a purple, the color of royalty. Purple is also the "mediator" color that reminds us of the union of God and man in the person of Messiah.
Be the first to comment on this banner: